THE 2014 CHICAGO JAZZ FESTIVAL ANNOUNCES NEIGHBORHOOD NIGHTS CONCERT SERIES
The Chicago Jazz Festival, one of the most acclaimed and richly curated jazz festivals in the U.S., will be presenting performances outside of the festival grounds with the Chicago Jazz Festival: Neighborhood Nights concert series. Neighborhood Nights was conceived of with an aim towards expanding the footprint of the Chicago Jazz Festival beyond the festival's stage and partnering with community institutions such as the Chicago Park District, as well as various Chicago Public Library branches and community centers throughout Chicago. 
To begin the series on
July 18th and 19th
, the
8th Annual Chicago Latin Jazz Festival 
will happen in
Humboldt Park 
(1400 N. Sacramento Ave., Chicago). A tribute to
Victor Venegas
, a native of Durango, Mexico, who became one of the great bassists in Latin music as a South Side Chicagoan, highlights the
8th Annual Chicago Latin Jazz Festival
on 
Friday, July 18

(

7-10 PM

) and

Saturday, July 19
 (

1:30- 9 PM

) at the Humboldt Park Boathouse (
1359 N. Sacramento
). Now in its second year as a two-day music and cultural arts and crafts attraction, the family friendly and free event will offer a full range of musical performances, instrument and mask-making workshops and more. Venegas, who died in 2006, helped introduce to America the charanga, the Cuban dance music he performed in the 1940's as a member of Orquesta Nuevo Ritmo de Cuba, led by Armando Sanchez. 
Venegas' music will be performed 

Friday

 by a specially assembled group of leading Chicago performers called the 
Chicago Latin Jazz Collaborative
. Led by 
Jose Porcayo
, a much-admired bassist and leader of the pop-influenced unit, La Nueva Corporación, the band includes drummer 
Bobby Delgado
, conga player 
Joe Rendon
, pianist 
Joaquin Garcia and saxophonist Max Wassinger. 
Also featured

on Friday

: James Sander's Proyecto Libre with special guest Edward Wilkerson and NY conguero Johnny Blas' Afro Libre Orchestra. 
Saturday's

musical bill will feature young percussionist and composer
Juan Pastor's Chinchano
, whose inventive approach applies Central and South American rhythms to jazz. The band includes rising trumpet star
Marquis Hill
, alto saxophonist
Rich Moore
, pianist
Stuart Mindeman
and bassist
Patrick Mulcahy
. Also performing are
Ruben Alvarez's Sun Sounds
, led by the veteran percussionist (a longstanding member of Chévere De Chicago) and direct from Puerto Rico, esteemed trombonist
William Cepeda
, whose Afro-Caribbean jazz brings a special emphasis to the music of his native Puerto Rico. His band will include a pair of celebrated Chicagoans, trumpeter
Victor Garcia
and tenor saxophonist
Roy McGrath
.
Saturday

afternoon's festivities, running from

1:30-4:15 PM

, will include Master story-telller Mama Edie, the Congolese percussion ensemble, Tambours Sans Frontieres; the Holy Cross/Immaculate Heart of Mary Marimba Ensemble,performing everything from traditional Mexican and Caribbean folk melodies to classical pieces, instrument and mask making, and carnivale decorations.
The following Neighborhood Nights event, on

July 26th

at the Garfield Park Conservatory
 (
100 N. Central Park Ave., Chicago,

5-7 PM

) 
will feature the legendary Phil Cohran; 
an early member of Sun Ra's Arkestra, a co-founder of the Association for the Advancement of Creative Musicians (AACM), inventor of the electric kalimba known as the frankiphone, and a bandleader whose sound has influenced everyone from Earth, Wind & Fire to Kahil El'Zabar. For his Neighborhood Nights date, Cohran will be joined by
Oscar Brown Jr.'s daughter, vocalist and dancer Afrika Brown, as well as a few of Cohran's sons–Malik and Tycho Cohran–who comprise part of  the renowned Hypnotic Brass Ensemble. 
On

August 1st

, the singer Margaret Murphy Webb will perform at Arts Incubator (
301 E. Garfield Blvd., Chicago,

5-7 PM

)
. 
Margaret Murphy is an award winning vocalist who has been performing for over thirty years. She developed her unique vocal style and showmanship under the tutelage of world renown tenor saxophonist Von Freeman with whom she shared the stage at the Taste of Chicago, The Jazz Showcase, the Chicago Jazz Festival, Andy's, The Green Mill and many other popular Chicago venues. As leader of her own quartet, she has been featured at the Navy Pier Beer Garden, Chicago Lake Cruises and Chicago
 neighborhood fests. 
(Michael Zerang and Blue Lights)
On

August 8th

, drummer Michael Zerang will perform with his band Blue Lights at the Logan Square Roundabout (
3200 W. Logan Boulevard, 
Chicago
,
 

5-7 PM

).
Zerang's group is comprised of many of Chicago's most exciting and adventuresome improvisers: 
saxophonists 
Mars Williams
 and 
Dave Rempis
, cornetist 
Josh Berman
 and bassist 
Kent Kessler
. 
Zerang has been a stalwart member of the creative music scene in Chicago, as both a musician and an advocate of the scene. In 1985, Zerang founded the Links Hall Performance Series, in which he presented over 300 concerts in his four year tenure as curator.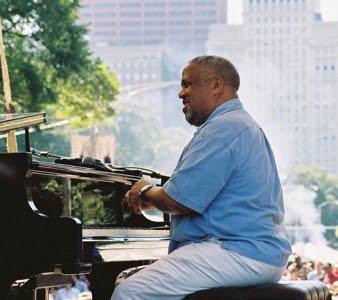 The final event of the Neighborhood Nights series will be on

August 16th

 at Woodson Regional Library (9525 S. Halsted St, Chicago,

1-3 PM

) 
 and will feature piano powerhouse Willie Pickens
, a long-time veteran who has played with the likes of James Moody, Roy Eldridge, Max Roach, Clark Terry, Ira Sullivan and was a long-time sideman for Elvin Jones. Also featured will be NextGen bassist Katie Ernst and longtime Pickens collaborator Robert Shy. 
A favorite Labor Day Weekend tradition celebrating both the mainstream of the national jazz scene as well as Chicago's unique contributions to the art form, the 36th Annual Chicago Jazz Festival is 

August 28-31, 2014

 in Millennium Park and at the Chicago Cultural Center (78 E. Washington Street), presented by the Chicago Department of Cultural Affairs and Special Events and the Chicago Jazz Partnership and programmed by the Jazz Institute of Chicago. The festival is sponsored in part by American Airlines, Aquafina, Chicago Jazz Magazine, Chicago Transit Authority, Chicago Tribune, Chicagotribune.com, CLTV-ChicagoLand's Television, Communications Direct, DownBeat Magazine, E&J Gallo Family Vineyards, LaGrou Distribution System, Metra, Pepsi and WGN-Television.